In a world where speed, convenience, and security are all essential for businesses building successful onboarding experiences that inspire trust, API emerges as a game-changer. A leading Forensics report highlights the urgency of this need:
In 2022, 26% of SMBs and 38% of enterprises experienced more than 50 identity fraud incidents.

Finance and technology businesses are now dealing with more verification cases involving foreign documents, with 62% of them reporting that they're doing it manually.

One in four banks reported experiencing over 100 identity fraud incidents in 2022.


Organizations are increasingly using Chatbots to automate new user or customer onboarding. However, automation without verification remains a challenge.
The Gridlines verification and KYC APIs paves the way for a fresh era for businesses in search of intelligent digital onboarding and verification solutions. Now, say goodbye to manual obstacles and complex processes, and welcome a future where technology enables effortless, secure, and swift interactions. Discover the transformative power of Gridlines API, your gateway to smarter onboarding.
Why Choose Gridlines for Your ChatBot
Smart and Instant Onboarding
Gridlines API revolutionizes the onboarding journey for your ChatBot, delivering instant and intelligent solutions that seamlessly adapt to any use case.
Enhanced Risk Management
Avoid the risk of onboarding fraudulent individuals, entities, or borrowers. Gridlines' APIs are your shield against such risks, ensuring secure and trustworthy engagements.
Effortless Integration
Integrating Gridlines APIs into your onboarding process couldn't be easier. Our plug-and-play functionality streamlines the incorporation of these APIs into your existing systems, saving you precious time and effort during setup.
Data Privacy and Regulatory Compliance
Gridlines API prioritizes data privacy and compliance with regulatory requirements. Along with that, API output information about your business partners (which may also include sensitive information) is NOT stored by us after the verification transaction. We understand and respect that this is essential to ensuring data protection and compliance.
R
ecommended Gridlines APIs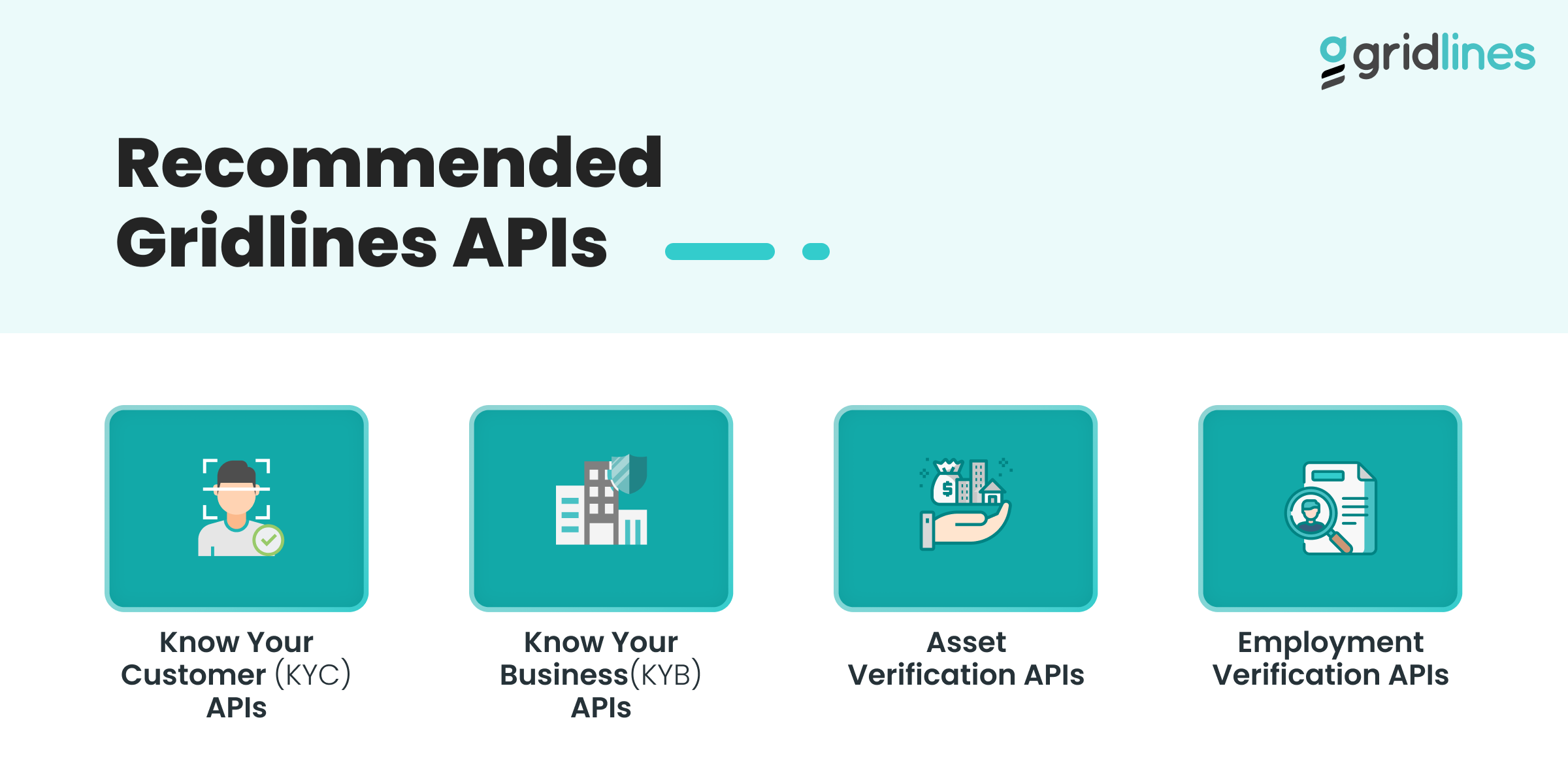 Gridlines offers a range of APIs tailored to your specific needs:
1
. Know Your Customer (KYC) APIs
Including Aadhaar, PAN, Driving License, Passport, Voter ID verification, Bank Account and UPI ID Verification, Face match, etc.
2
. Know Your Business (KYB APIs)
Covering GST, PAN, MSME, FSSAI, CIN/DIN and other company verifications.

3. Asset Verification APIs
Verification of the vehicle RC for trustworthy asset ownership validation.

Access complete employment history, latest employment records, and UAN lookup by mobile number.
Use Cases
Paperless Know Your Customer (KYC) using Chatbots
Experience the future of onboarding with Gridlines API seamlessly integrated into your ChatBot. Witness how AI chatbots navigate the KYC process intelligently, ensuring compliance while minimizing user friction.
Paperless Know Your Business (KYB) using Chatbots
Elevate your due diligence processes, mitigate risks, and build trust in B2B interactions with Gridlines APIs. Verify the authenticity of partnering companies, avoid money laundering and fraud risks, and avoid regulatory penalties.
Marketplace Validation: Ensuring Asset Ownership
In auto/motor insurance or in the sharing economy, asset verification APIs play a crucial role in establishing asset ownership. Whether it's conducting a detailed Vehicle RC check or verifying RC with challan records, these tools provide a robust means of validation.
Effortless Employment Verification for Alternate Data and Seamless Remote Onboarding
Instant current employment verification and employment history checks are becoming a strong alternate data point for enhanced underwriting for giving loans. Lenders are mitigating risks by offering high-risk loan products to people who are employed (or consistently) employed with reputed organizations.
In addition, for industries with extensive recruitment needs, such as insurance, logistics, and shared economies, Gridlines offers a seamless solution for employee verification.
Our API empowers businesses to scale their hiring processes without compromising on accuracy or security. Gridlines enable swift validation of employment history, credentials, and background information.
Read Also: BGV Explained: Answering the Most Common Questions About Background Verification
Take advantage of Gridlines APIs today to enable your chatbots with instant onboarding features. To get Gridlines' sandbox access, sign-up here. To know about Gridlines' 100+ APIs and verification services, Book a Demo.